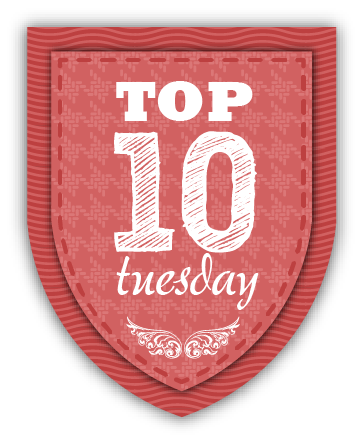 *Top 10 Tuesday it's a weekly meme hosted
by The Broke and the Bookish
This week's Top 10 Tuesday is a list of books that have caused us to shed a tear or two. Laughter is the best medicine and all that. But sometimes, a solid sob session is just what you need. Be sure and have a box of Kleenex beside the bed! So here we go. . .
1.
Pushing the Limits
by Katie McGarry
"The worst type of crying wasn't the kind everyone could see--the wailing on street corners, the tearing at clothes. No, the worst kind happened when your soul wept and no matter what you did, there was no way to comfort it. A section withered and became a scar on the part of your soul that survived. For people like me and Echo, our souls contained more scar tissue than life."
2.
The Sea of Tranquility
by Katja Millay
"People like to say love is unconditional, but it's not, and even if it was unconditional, it's still never free. There's always an expectation attached. They always want something in return. Like they want you to be happy or whatever and that makes you automatically responsible for their happiness because they won't be happy unless you are . . . I just don't want that responsibility."
3.
The Knife of Never Letting Go
by Patrick Ness
"Hope may be the thing that pulls you forward, may be the thing that keeps you going, but that it's dangerous, that it's painful and risky, that it's making a dare in the world and when has the world ever let us win a dare?"
4.
A Monster Calls
by Patrick Ness
"And if one day,' she said, really crying now, 'you look back and you feel bad for being so angry, if you feel bad for being so angry at me that you couldn't even speak to me, then you have to know, Conor, you have to that is was okay. It was okay. That I knew. I know, okay? I know everything you need to tell me without you having to say it out loud."
5
. The Time Traveler's Wife
by Audrey Niffenegger
"Long ago, men went to sea, and women waited for them, standing on the edge of the water, scanning the horizon for the tiny ship. Now I wait for Henry. He vanishes unwillingly, without warning. I wait for him. Each moment that I wait feels like a year, an eternity. Each moment is as slow and transparent as glass. Through each moment I can see infinite moments lined up, waiting. Why has he gone where I cannot follow?"
6.
Eleanor & Park
by Rainbow Rowell
"I miss you, Eleanor. I want to be with you all the time. You're the smartest girl I've ever met, and the funniest, and everything you do surprises me. And I wish I could say that those are the reasons I like you, because that would make me sound like a really evolved human being …'But I think it's got as much to do with your hair being red and your hands being soft … and the fact that you smell like homemade birthday cake"
7.
Looking for Alaska
by John Green
"We are all going, I thought, and it applies to turtles and turtlenecks, Alaska the girl and Alaska the place, because nothing can last, not even the earth itself. The Buddha said that suffering was caused by desire, we'd learned, and that the cessation of desire meant the cessation of suffering. When you stopped wishing things wouldn't fall apart, you'd stop suffering when they did."
8.
The Perks of Being a Wallflower
by Stephen Chbosky
"So, I guess we are who we are for alot of reasons. And maybe we'll never know most of them. But even if we don't have the power to choose where we come from, we can still choose where we go from there. We can still do things. And we can try to feel okay about them."
9.
Harry Potter and the Deathly Hallows
by J.K. Rowling
"Dumbledore watched her fly away, and as her silvery glow faded he turned back to Snape, and his eyes were full of tears.




"After all this time?"




"Always," said Snape."
10.
Bridge to Terabithia
by Katherine Paterson
"It was Leslie who had taken him from the cow pasture into Terabithia and turned him into a king. He had thought that was it. Wasn't king the best you could be? Now it occurred to him that perhaps Terabithia was like a castle where you came to be knighted. After you stayed for a while and grew strong you had to move on. For hadn't Leslie, even in Terabithia, tried to push back the walls of his mind and make him see beyond to the shining world—huge and terrible and beautiful and very fragile? (Handle with care—everything—even the predators.)