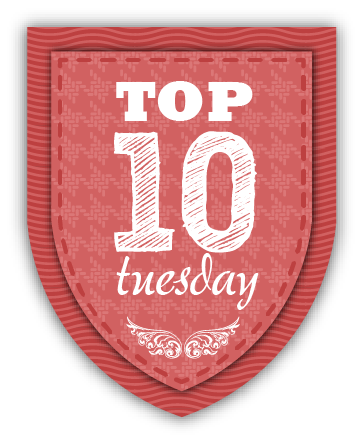 *Top 10 Tuesday it's a weekly meme hosted
by The Broke and the Bookish
Well its been a while since we posted TTT.
This week we choose the most popular subject nowadays (creative i know). But this week's topic is very appealing because some books are just perfect for film. We want to see all this awesome books made into movies - reading a really good book is just like watching an intense action movie.

1.
Red Rising
by Pierce Brown
Have you read this book? You should. You'll understand my reason for naming this my first "book-to-movie" choice. This book was a real page turner, so I think a movie would have to be an edge of your seat viewing treat.
2.
I Hunt Killers
by Barry Lyga
A psychological thriller like no other. It was very intense and at times so disturbing but I could not put it down. A serial killer TV Show for young adults with huge doses of humor and chills? Yes, please!
3.
Unwind
by Neal Shusterman
One of my favorite books. It contained one of the most disturbing scenes I have ever read. Definitely not a book for everyone but I loved it and think that it could make a pretty crazy film.
4.
Shadow and Bone
by Leigh Bardugo
Fantasy at its very best. This book deserves a film that fully appreciates how absolutely amazing it is and that doesn't ruin the characters with mediocre acting talent. I want to see this world on the big screen.
5.
Blood Red Road
by Moira Young
In the first 30 pages, the world ends. Doom rolls in on bloody dust clouds. There's a kidnapping, a double murder and an oath over a funeral pyre. How can you go wrong?

1. Lorien Legacies
[series]
by Pittacus Lore
TV Show definitely! and i don't know why but i imagine everybody speaking on Australian accent (
H2O, Just Add Water
stile).
2.
Winterling
[series]
by Sarah Prineas
A Movie. Children movies, love those, and haven't watched one in such a long time...
3. Reckoners
[series]
by Brandon Sanderson
An Action Movie. there is a chasing scene with motors somewhere in the middle of the book which would look awesome on screen. Plus i would love to see how a world made of still would look like.
4. Elemental
[series]
by Brigid Kemmerer
TV Show. Hot guys with powers - the longer it lasts the better!
5. Avalon
by Mindee Arnett
Sci-Fi TV Show. I know there is abundance of this type of shows but this would be with teenagers and if you ask me there is always room for more sci-fi!