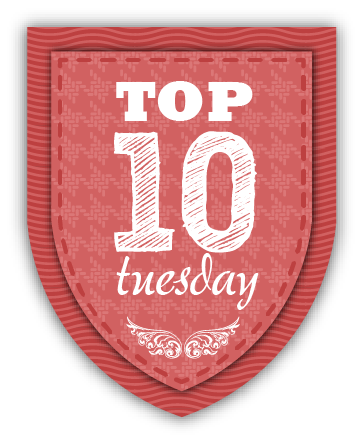 *Top 10 Tuesday it's a weekly meme hosted
by The Broke and the Bookish
This week, for Top Ten Tuesday, we're talking about the top ten popular authors we have never read.
So, while We are pretty embarrassed about never having read some of these books, rest assured that we will do everything possible to change that :)

1.
J.R.R. Tolkien
[The Lord of the Rings]
I do intend to read this one. It's one of those series that I intend to read some time during my life :) I've never made it through any of the LOTR films either!
2.
Marissa Meyer
[The Lunar Chronicles]
I've been hearing great things about this books for years now . . . and NO, I haven't read them yet. I know, bad me.
3.
Kami Garcia
[Caster Chronicles]
I have been meaning to give this series a try , but after reading mixed reviews it has been shoved down on my reading list. Not sure what my opinion will be when I read them, but hopefully it'll be good!
4.
Melina Marchetta
[a lot of books]
I know she has so many great books, but sadly I haven't read any of them. I can't even really defend myself.
5. Neil Gaiman
[a lot of books]
His books come highly recommended by just about everyone. And I'm one of the few who haven't read a single book by this amazing author . . . not a single book. Shame on me!

1.
George Orwell
[1984]
Whenever i explain to people what kind of literature i usually read they always assume I've read Orwell or Huxley... maybe i should?
2. Neal Shusterman
[Unwind series]
I'm a little ashamed but here is my excuse - I'm waiting for the last one of the series to come out, so ill read it soon. I promise!
3.
Cassandra Clare
[The Mortal Instruments series]
Yeah, yeah i know... the funny thing is, I'm more curios about this one after i saw the movie just because it was awful.
4.
Julie Kagawa
[a lot of series]
This was true until 2 days ago, I'm listening
Iron King
at the moment but still... its 3 years later then the rest of the world.
5.
Barry Lyga
[I Hunt Killers]
He looks like a rock star of an author, doesn't he? I run out of good excuses, I don't know why i haven't reads this already.