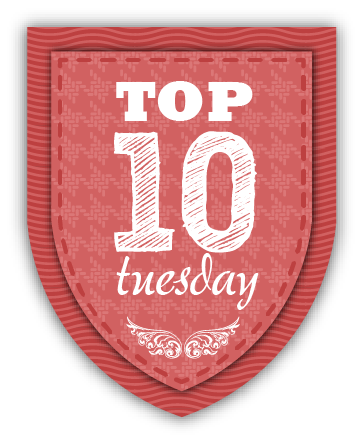 *Top 10 Tuesday it's a weekly meme hosted
by The Broke and the Bookish
There are a lot of releases we are waiting in 2014 and is very difficult to pick out only 10 let along 5 for each of as!
Here are our choices and bear in mind that this are just the tip of the iceberg!

1. Panic
by
Lauren Oliver
- March 4
Seeing reviews from people who've already gotten the chance to read this makes me want to burst out in sobs. Lauren Oliver you are making me suffer!
2. Ruins (Partials Sequence #3)
by
Dan Wells
- March 11
Awesome cover? Check. Summary that makes us desperate for the book? Double check. I cannot wait to read the final installment in the Partials Sequence. You want a kickass heroine, this is the series!
3. Dreams of Gods & Monsters (Daughter of Smoke & Bone #3)
by
Laini Taylor
- April 8
There is absolutely nothing like beautiful writing in a book and Laini's writing is beyond beautiful. This book = FANGIRL DREAM COME TRUE!
4. The Forever Song (Blood of Eden #3)
by
Julie Kagawa
- April 29
Ms. Kagawa I believe you are trying to kill me ... THE ENDING OF THE LAST BOOK!!!! HOW AM I SUPPOSED TO WAIT TILL APRIL!!! AHHHHHH!!! SO MANY FEELINGS!
5. Ruin and Rising (The Grisha #3)
by
Leigh Bardugo
- June 3
June 3,2014?!! What?! Why so SOON?! This is that book that you will loose sleep over, I can't wait to read Bardugo's magical story.

1. Untitled (The Raven Cycle #3)
by
Maggie Stiefvater
- summer 2014
If anybody ever read Stiefvater knows why this is my most anticipated. 'Naff said!
2. Secret (Elemental #4)
by
Brigid Kemmerer
- January 28
Even thought I'm not a fan of the cover, I'm in love with every single boy in this series! So I'm reading this the moment it comes out. Until then i'm biting my nails and jealously reading ARC reviews. (also this one opens today on Net-Galley)
3. The Blood of Olympus (The Heroes of Olympus #5)
by
Rick Riordan
- October 27
I know i'm grown up, but who cares. Percy Jackson is my hero, ill follow him on every adventure. Also LEO!!! And its the last of the series so things are going to be exiting in this one! CAN"T WAIT!
4. Moonkind (Winterling #3)
by
Sarah Prineas
- January 01
So apparently, i love middle-grade. I wish i had a kid so i would have the excuse of reading it so often. And i don't have to wait to long for this one. YAY!
5. Shadow Throne (Ascendance Trilogy #3) by Jennifer A. Nielsen
- February 25
So cunning this Sage character. Can't wait to see what he conspires next! (the author gives ARCs on her blog until 13th December)