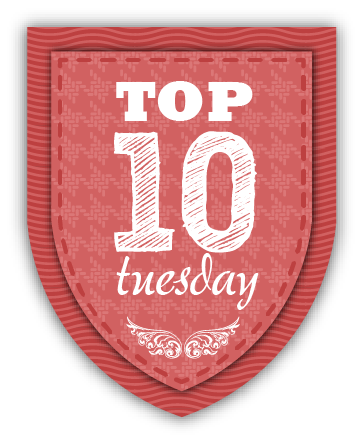 *Top 10 Tuesday it's a weekly meme hosted
by The Broke and the Bookish
There are many good author out there, some we know some we don't. Being primly YA readers, we mainly discover new author in that gender.
Here is the list of authors we love, that we encountered first this past year.
------------------------------

1. Mindy McGinnis
-
Not a Drop to Drink
McGinnis' debut novel is an inspiring journey which asks the ultimate question: what's more important - survival or living? This book was fantasic. Did you hear me people? FANTASTIC!
2. Barry Lyga -
I Hunt Killers(Jasper Dent #1)
Barry Lyga has been writing YA novels for years, but I just "discovered" him this year when I read I Hunt Killers and Game. Wow, just wow. This book is ridiculously creepy.
3. Rick Yancey
-
The 5th Wave (The 5th Wave #1)
This book was so crazily addictive that I read it in literally half a day. I loved how the main character was such a strong, kick-butt girl ! I want the next book SO bad!
4. Julie Kagawa
-
The Immortal Rules (Blood of Eden #1)
I've heard a lot about her books but I've never read any until I read The Immortal Rules, and was absolutely blown away. . . adding all her books to my TBR.
5. Bridget Zinn
-
Poison
It's the sweetest book ever, perfect for anyone wanting a fun book with a lot of heart. Bridget was a talented new writer with a long and beautiful career before her. And it saddens me that she did not live to see it published.
------------------------------

1. Brandon Sanderson
-
Steelheart (Reckoners #1)
I am reading this at the moment but its instantly my favorite. Sanderson has a way of narrating that makes me love all of his character instantly.
2. Rainbow Rowell
-
Fangirl
Rowell's characters just pop out of the page, no matter if its main or secondary. I loved her writing more than the story she told. I contemplate reading Elenore & Park as soon as possible.
3. Kasie West
-
Pivot Point (Pivot Point #1)
After i read Pivot Point i read the Distance Between Us and West also got that done amazingly well. Witch in my opinion makes West and extraordinary gifted author being able to handle paranormal genre as mach as contemporary.
4. Victoria Scott
-
The Collector (Dante Walker #1)
With straight forward and inappropriate seance of humor and light and carefree character in the face of danger, Miss Scott both my adoration right from the first line I've read.
5. Cat Patrick
-
The Originals
Cat Patrick's book read more like contemporary romance then science-fiction, but I think that's what I like about it the best - everyday life sprinkled with paranormal happenings.