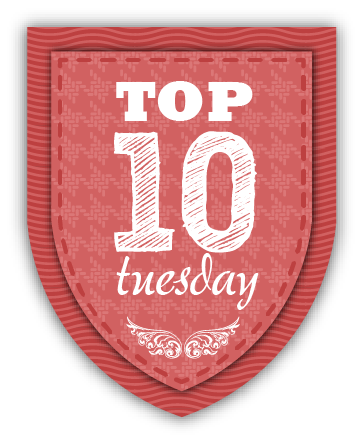 *Top 10 Tuesday it's a weekly meme hosted
by The Broke and the Bookish
Christmas is over and we hope everyone got lovely bookish things over the holiday! It is our hope that this post may help you with last minute gifts for loved ones, friends, or even one for yourself. Although it was very hard to narrow it down since we read so many wonderful books this year, these are the ten we truly adored (in no particular order).
1.
PAPER TOWNS
by John Green
"When did we see each other face-to-face? Not until you saw into my cracks and I saw into yours. Before that, we were just looking at ideas of each other, like looking at your window shade but never seeing inside. But once the vessel cracks, the light can get in. The light can get out."
2.
DAYS of BLOOD and STARLIGHT
by Laini Taylor
"Dead souls dream only of death," the resurrectionist told the emperor. "Small dreams for small men. It is life that expands to fill worlds. Life is your master, or death is. Look at you. You are a lord of ashes, a lord of char. You are filthy with your victory. Enjoy it, Joram, for you will never know another. You are lord of a country of ghosts, and that is all that you will ever be."
3.
HORDE
by Ann Aguirre
"If this is the last time, let me say it so you never forget. I will always love you, Deuce. No matter where souls go, mine will be looking for you, solnyshko moyo."




"No. I want a promise instead. Promise you'll fight like you never have, so when the dying stops, you'll be on your feet looking for me here."




"I swear."
4.
INTO THE STILL BLUE
by Veronica Rossi
He gathered her close and forgot everything, everyone except her, until he heard Reef's gruff voice behind him.




"Sometimes I forget he's nineteen."




"Oh, yes. Easy to do." The gentle reply could only be from Marron. "Not now."




"No... certainly not now."
5
. PIVOT POINT
by Kasie West
"I don't care when people think I'm an antisocial, controlling bookworm because that's what I am. It's when they interpret me wrong that I have a problem."
6.
CHAMPION
by Marie Lu
"Day just smiles at me, an expression so sad that it breaks through my numbness, and I begin to cry. Those bright blue eyes. Before me is the boy who has bandaged my wounds on the streets of Lake, who has guarded his family with every bone in his body, who has stayed by my side in spite of everything, the boy of light and laughter and life, of grief and fury and passion, the boy whose fate is intertwined with
mine, forever and always."
7.
THE COLDEST GIRL IN COLDTOWN
by Holly Black
If you let me borrow your car for tonight, I promise I will repay you."




"Oh yeah?" she asked, looking at him, with his bare feet and plain, dark clothes. "With what?"




The smile stayed on his lips. "Jewels, lies, slips of paper, dried flowers, memories of things long past, useless quotations, idle hands, beads, buttons, and mischief."
8.
THE DREAM THIEVES
by Maggie Stiefvater
"I wish you could be kissed, Jane," he said. "Because I would beg just one off you. Under all this." He flailed an arm toward the stars. "And then we'd never say anything about it again."




That could've been the end of it.




She said, "We can pretend. Just once. And then we'll never say anything about it again."
9.
WORLD AFTER
by Susan Ee
"He sighs. "I miss the days when females could be ordered around and they'd have no choice."




"Sure that wasn't just a myth? I'm pretty sure nobody ever ordered my mom around - ever."




"You're probably right. The unruliness of the women in your family must go back for generations. You're like a plague upon the land."
10.
THE ETERNITY CURE
by Julie Kagawa
"You're still beautiful and dangerous and incredible, and I'll keep telling you that for as long as it takes you to believe it. But right now, all I want to do is kiss you, except I'm terrified that if I try you might throw me off this balcony."




"Oh, don't mind me," came an extremely sarcastic voice near the wall. "You two go ahead and make out–I'll just sit here and bleed quietly."