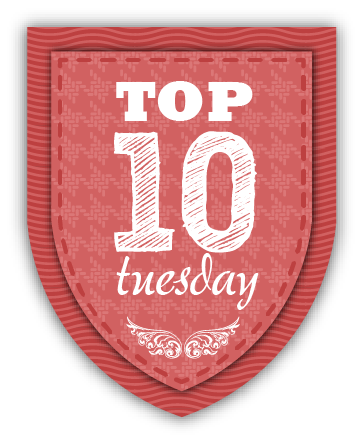 *Top 10 Tuesday it's a weekly meme hosted
by The Broke and the Bookish
Christmas is just around the corner, as we all know.
So this week the theme is Top Ten books I wouldn't mind Santa bringing me. And since Santa can work miracles, we are putting in a few books that come out next year... he is Santa after all ;) Santa already knows what we want (I hope), but this may give him even more ideas :)

1. Dreams of Gods & Monsters (Daughter of Smoke & Bone #3)
by
Laini Taylor
It doesn't come out until April but I DON'T CARE!! I want to be able to hold it in my hands and pet it and STARE. I mean, LOOK at the PRETTY
2. Eleanor & Park
by
Rainbow Rowell
Over the past few weeks I've heard SO many wonderful things about this book! I feel like this was one of those "It" books this year. Can't wait to meet you! Can you be under my tree, please?!
3. The Fault in Our Stars
by
John Green
I'm ashamed to say I've never read this one yet! I loved Paper Towns so much! Why don't I own this book yet? I want to read it so bad!
4. A Game of Thrones (A Song of Ice and Fire #1)
by
George R.R. Martin
I'm a huge fan of George R.R. Martin and VERY behind on his books. I am hoping for a complete set this Christmas. =]
5. Harry Potter and the Sorcerer's Stone (Harry Potter #1)
by
J.K. Rowling
A signed copy of Harry Potter and the Sorcerer's Stone- A girl can dream, right?

1. Sinner
by
Maggie Stiefvater
But any book by Maggie Stiefvater would do.
2. Hold Me Closer, Necromancer (Necromancer #1)
by
Lish McBride
This book is actually one of my favorite of all time, and also look at that cover - its so awesomely vintage... It would look so good on my shelf.
3. Paper Towns
by
John Green
I love this book. It made me laugh, it made me cry. Its all warm and fuzzy, its book about friendship and love, its a great present.
4. The Knife of Never Letting Go (Chaos Walking #1)
by
Patrick Ness
This is an amazing series and i want the whole set - all 3 of them. I'm wishing for this for two year in the row. Maybe this year my wish will come true
*fingers crossed!
5. Isla and the Happily Ever After
by
Stephanie Perkins
I loved
Anna and the French Kiss
, i loved
Lola and the Boy Next Door
and now I'm ready to loved this one. It comes out in March but Santa is all about fulfilling wishes and I've been a good girl this year...