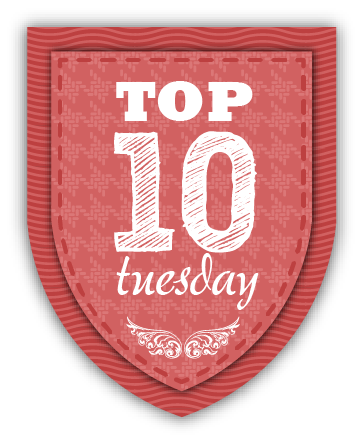 *Top 10 Tuesday it's a weekly meme hosted
by The Broke and the Bookish
Well, here we are again. Another week and another Ten Top to go with it! This week is all about the 2014 debuts we are anxiously awaiting for their publication date to finally get here. This year is going to be a full of fantastic story lines and beautiful book covers. We can't wait to get our hands on these books:

1.
The Fifty-Seven Lives of Alex Wayfare (Alex Wayfare #1)
by M.G. Buehrlen
Two words: TIME-TRAVEL! There are never enough books about time travel, and I want this one now.
2.
Side Effects May Vary
by Julie Murphy
I've already heard lots of buzz for this book and I've got my fingers crossed that it will be a favorite. Read the summary and tell me it doesn't sound awesome.
3.
Salvage
by Alexandra Duncan
SPACE BOOK. YES! Provoking debut novel that will appeal to fans of Across the Universe and The Handmaid's Tale. What more can a girl want? And that cover just begs to be added to my shelf.
4.
The Murder Complex (The Murder Complex #1)
by Lindsay Cummings
The cover and the tagline are so catchy:
"She's trained to survive. He's programmed to kill."
Action-packed, blood-soaked, and chilling futuristic thriller.
5.
Hexed (The Witch Hunter #1))
by Michelle Krys
This isn't your usual witch story, it's a completely new spin on witches. I love a good witchy read, and I really can't get enough of those in my life.

1.
Dear Killer
by Katherine Ewell
This sounds like awesome antihero story. Creepy and twisted this could be one helluva read! Emphasis on the HELL part.
2.
Elusion
by Claudia Gabel & Cheryl Klam
I'm always up for a good sci-fi, and this has a promise to be a great one. Also how great is it to experience something without worrying for consequences?
3.
The Strange and Beautiful Sorrows of Ava Lavender
by Leslye Walton
I have to admit its more about the cover... look at that quelling, and look at the colors. Isn't it beautiful?
4.
The Chance You Won't Return
by Annie Cardi
The premiss reads as just another, cont.-romance, but Amelia Earhart is mentioned somewhere in there and I love Amelia Earhart so this might be interesting.
5.
Half Bad (Half Life Trilogy #1)
by Sally Green
Boys, prison, bad witches, good witches, quest, lost father.. whats no to like in here? Noting! Can't wait for this one!