When i pick up a debut author its never on purpose. Only after a finish the book and browse thought other peoples reviews do i realize that i just read a debut. They can some time be worst, they can sometimes be better (then long time authors) but they are always worth checking out.
This year we will find them on purpose. We will read them and review them and love'm or hate'm. The challenge, if you fell like joining, is hosted by
The Story Siren
.
It lasts from January 1, 2014 to January 31, 2015. The aim is 12 book in a year! I think we can do that (its basically one book a month).
We will use this post to track and catalog our reading progress, which means it will be updated and edited frequently.
Happy Reading!
January Reads:
1.
RED RISING
by Pierce Brown
[28.Jan.2014]
2.
SOMETHING REAL
by Heather Demetrios
[31.Jan.2014]

March Reads:
3.
BROKEN SKIES
by Theresa Kay
[19.Mar.2014]
May Reads: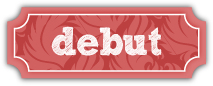 3/12 books