Its so rare to find standalone YA nowadays. Even when you think you've found one, the next thing you know the author is announcing there is a sequel. And he/she was planing to make it a 10 book saga from the start, portraying every life stage, with the MC dying in the last one... of old age.
I mean sure.. i would love to read Hunger Games (alike) when I'm 40+...?
Our goal this year is to find GOOD standalone YA. We are joining the challenge hosted by
Dizneeees World Of Books
and
Icey Books
. Fell free to join in our quest.
The aim is 15 books (easy peasy!)
We will use this post to track and catalog our reading progress, which means it will be updated and edited frequently.
Happy Reading!
January Reads:
1.
SOMETHING REAL
by Heather Demetrios
[31.Jan.2014]
February Reads:
2.
DON'T EVEN THINK ABOUT IT
by Sarah Mlynowski
[17.Feb.2014]
March
Reads:
3.
ILLUMINATING GRACIE
by Lisa C. Temple
[04.Mar.2014]
May Reads:
4.
TORN AWAY
by Jennifer Brown
[06.May.2014]
5.
SINCE YOU'VE BEEN GONE
by Morgan Matson
[28.May.2014]
July Reads:
6.
THIS SONG WILL SAVE YOUR LIFE
by Leila Sales
[08.July.2014]
September Reads:
7.
ARISTOTLE AND DANTE DISCOVER THE SECRETS OF THE UNIVERSE
by Benjamin Alire Sáenz
[02.September.2014]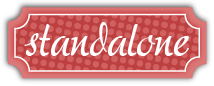 7/15 books